by SG's Team Agony feat. Lyxzen
Let us answer life's questions – because great advice is even better when it comes from SuicideGirls.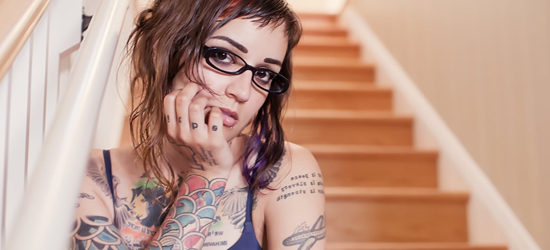 [Lyxzen in A Sunny Day In Portland]
Q. So my relationship is still new but already it feels like it's losing its fire. I've actually known this girl since I was 17, but she was in a relationship at the time and we ended up losing touch. At the beginning of the month we found each other again online and at first she didn't know who I was because I've changed so much. I keep hearing from her friends that she really likes me, but I just never get the same feeling that she wants me that I felt when we first started being together. I really like her and I really don't want this to be like all my other relationships where the girl leaves me after a few months. If you have any advice on how to help me keep her around I would greatly appreciate it.
A. Spring has sprung and love is in the air, eh? The beginning of a relationship is so awesome. Butterflies in your stomach all the time; flirty texts, instant messages, and phone calls just to say "hi"; talking to your friends about the object of your affection so much that it borders on being annoying. I'm about a year and a half into my current relationship and I'm still guilty of all of these. Feels good, doesn't it?
I say soak it in and stop stressing. Not every relationship is going to follow the same pattern of butterflies and giddiness, and some will end up settling down much sooner than others. Regardless of your worry about the flames dying down, your lady's friends know her best, and if they say she's into you – you've got to trust that. Sounds like you've turned out to be a pretty good catch if she ended up falling for you all these years later.
I do want to lay down some Dr. Phil talk on you, though. I'm picking up on insecurities on your end, and a lot of them. Maybe you didn't like the old you before you changed, and that's okay. We're all ever-changing, but only you can decide if you're growing as a person or devolving. Or maybe it's this pattern of your previous girlfriends ditching out on you after just a few months that has you mentally preparing yourself for the same thing to happen this time.
Either way, these insecurities are preventing you from just relaxing and enjoying your time with this awesome girl. If all you're able to do is stress out about how to keep her interest, I promise you that you will lose her interest. I'm sure men have the same sense, but I know for a fact that women can pick up on a lack of confidence pretty easily. It gets exhausting trying to convince someone you're seeing that they're attractive enough, intelligent enough, interesting enough, good enough in bed. And the list goes on. One of my friends recently broke it off with a guy because he kept voicing concerns that he didn't have enough tattoos for her taste. (She hadn't even thought of it until he brought it up, but his insecurity about it was what actually turned her off!)
Now, if you think your insecurities are more deeply-rooted, talking with a therapist or counselor is an awesome way to take control and start working seriously on the issue. If it's not quite to that point, focus on spending time with people that make you feel confident (like really supportive friends) and working on hobbies that make you feel great — if you're artistic or into sports, make time for these things!
And, although it sounds a little less relevant at first, another great thing to help figure yourself out is volunteering with an organization where you know you're doing something great for other people or animals. Nothing will give you a boost like taking part in planting a community garden, helping homeless critters find loving families, or being a Big Brother or Sister to a kid who needs a role model. Volunteer Match (http://www.volunteermatch.org/) is a great place for anyone to start looking for ways help out in their community.
Let this rad new lady be your motivation to work on your confidence, but do it for yourself. Whether or not she's in the picture, this pattern you mention will continue if you don't break the cycle.
Good luck with everything, sweetness, and be sure to send me a wedding invite whenever it happens!
Lyxzen
xoxo
***
Got Problems? Let SuicideGirls' team of Agony Aunts provide solutions. Email questions to: gotproblems@suicidegirls.com