by Liz Goldwyn
Documentary filmmaker and writer Liz Goldwyn's lifelong fascination with the inimitable glamour of classic burlesque inspired her to spend the eight years corresponding with, visiting, interviewing, receiving striptease lessons from, and forming close relationships with the last generation of the great American burlesque queens. In her book, Pretty Things: The Last Generation of American Burlesque Queens, Goldwyn steps back into an era when the hourglass figure was in vogue and striptease was a true art form.
Here in this SuicideGirls exclusive, Liz compiles a Top 10 list of Super Sexy Striptease Tips gleaned from studying and/or talking with the burlesque stars of the past and present, such as Zorita, Sherry Britton, Gypsy Rose Lee, Lois de Fee, and her close friend Dita Von Teese.
10 Tips For A Super Sexy Striptease
1. Confidence is key.
What makes a woman sexy onstage or off, is how comfortable she is in her own skin (even if it's her birthday suit!). Zorita, one of the legendary burlesque queens profiled in my book, Pretty Things: The Last Generation of American Burlesque Queens, was so confident that she exuded sexuality in every pore. You gotta own it to flaunt it, baby.
2. Don't underestimate the appeal of a zipper.
The iconic 1940s burlesque queen Sherry Britton once told me that Velcro was for amateurs only. You have to use your garments to tease the audience, sloooowwwly unzipping a zipper, lingering for extra effect. Don't underestimate the power of that little metal number, femme fatales have been asking men to "zip me up" or "can you unzip me, darling?" onscreen for years, and they have their leading men and their audience eating out of the palm of their hands.
3. Take creative risks.
As Gypsy Rose Lee said, "You gotta have a gimmick." The creativity and quality of an act is what separates the chorus line from the stars of the stage. Zorita stripped with two 8-foot boa constrictors, did a spider web number, and originated the "half-man/ half-woman" costume; Lily St. Cyr was the first to do a "bathtub" routine in the 1940s; Rosita Royce stripped with live macaws on her shoulders. Gypsy's "gimmick" was her intellectual ability – while she stripped she talked to the audience, very unusual for a peeler!
4. Make the drum beat your lover.
Whether stripping to a live band or a recorded number, the drummer is your new best friend. Your "bumps" (when you jut your hips in time to the beat) are on his cue, and help you find the "climax." Back in the day, the drummer of a burlesque show would be an integral part of the act. Burlesque queen Lois de Fee told me this story, which illustrates my point. She said, "I think [the first time I noticed masturbation in the audience] was at the Gaiety, and Casey was the drummer. And they didn't have a curtain between the orchestra and the first row. I heard giggling so I became conscious something was going on below. And Casey was saying to this guy, 'Am I keeping the right rhythm for you? You want me to go any faster? Or is this too slow?' The guy was masturbating and Casey was ribbing him about it."
5. Have a sense of humor.
Burlesque comes from the Latin word burlare, which means to laugh, to make fun of. If you can combine comedy with stripping, then you got it made. Gypsy Rose Lee really understood this concept, and it earned her millions of dollars and made her the biggest burlesque queen of the 20th century. She joked through her whole act, making the audience fall in love with both her body and brains!
6. Strippers' etiquette.
There are a few rules in burlesque, both past and present. One cardinal sin back in the day holds true even now: copying someone else's act is just not done. In the 1930s and '40s, strippers forbid other artists to stand in the wings watching while they performed. They didn't want anyone taking too close notes. I've heard tales of bloody noses and black eyes between strippers stealing an act. It takes a lot of time and effort to pull off a great routine and it's better to find your own niche than ripping someone else's off.
7. It's all illusion.
Don't think you have to be the most beautiful, fit, or incredible dancer to become a great strip-teaser. Just like movie stars of the 1930s were groomed into swans by the Hollywood studios, burlesque queens are made, not born. Neo-burlesque queen Dita Von Teese would be the first to tell you that she attributes her look to an amazing bag of tricks, which includes makeup, hair-dye, great lighting and hard work!
8. Dress in layers.
A burlesque queen comes out fully clothed and takes her time removing her layers, piece by piece. The more you have to take off, the more heightened the pay off is. Gloves, cape, dress, stockings, shoes – you name it, make use of your costume to prolong the tease. Costume is the biggest part of burlesque; Lily St. Cyr even did a whole reverse strip where she ended up fully clothed!
9. Damn the critics.
No matter what people may think of a striptease artist, they are performers just like any other entertainer, and have to deal with some flack for their art. Zorita took a lot of heat back in the day for her outrageous routines and behavior. She once mooned an entire theater with a swastika painted on her ass in protest of the theater owner because he wouldn't paint her dressing room! Perhaps strippers get even more criticism because their art involves taking off clothes. But hey, critics are sitting there shit talking and not taking risks themselves. So fuck 'em and keep doing what you love.
10. Don't give it all away.
Remember its called striptease for a reason – leave the audience wanting more!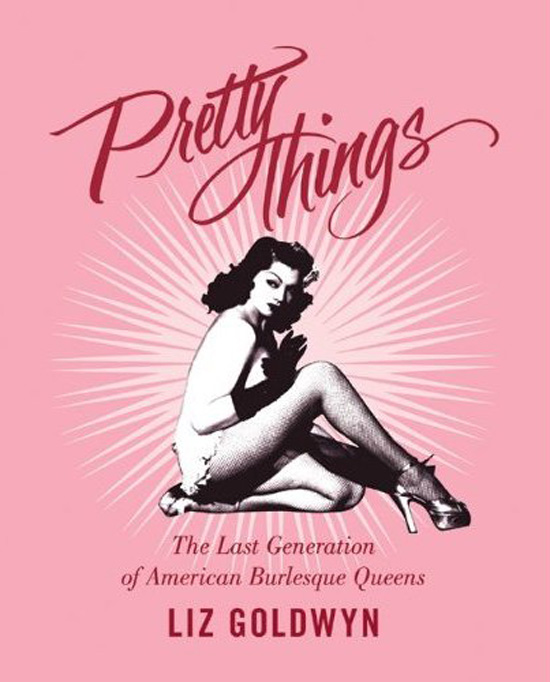 The paperback version of Pretty Things: The Last Generation of American Burlesque Queens (It Books/An Imprint of Harper Collins) hits bookstore shelves on December 21 and is available via Amazon.com/.
For more info on Liz Goldwyn visit LGoldwynFilms.com/.
And if you're interested in learning more about burlesque and/or want to meet up with other aficionados, join SuicideGirls Burlesque and Vaudeville Group (for members only).