On Saturday night, the bold and the brightest came out (both literally and figuratively) to support the Los Angeles Gay and Lesbian Center's Evening With Women, raising almost $500,000 for its many programs, including LGBT youth advocacy and HIV/AIDS healthcare. It coincided with the non-profit establishment's 40th anniversary, cementing it as a stronghold in the movement toward queer and women's equal rights.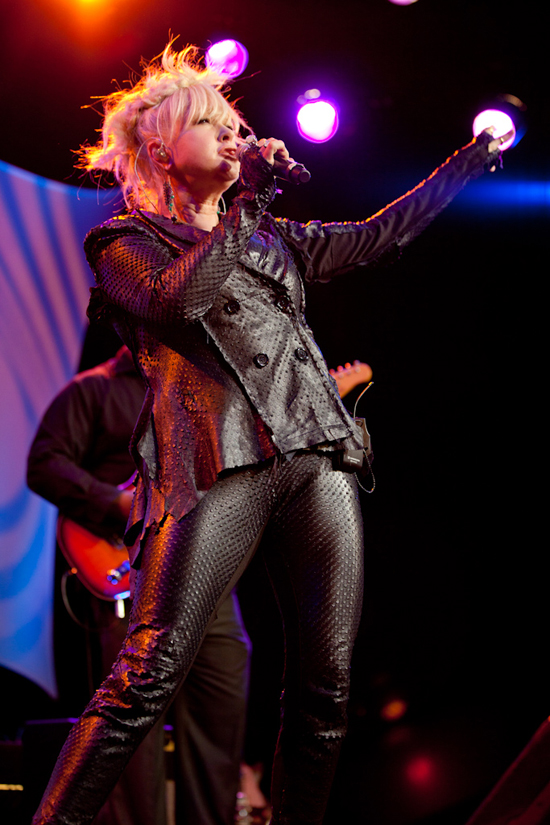 Performer Cyndi Lauper, a buoyant supporter of gay rights, whose history with philanthropic causes dates back to the '80s when she sang "We Are the World," appeared at the Beverly Hilton gala to fly her freak flag with pride.
"It is not always a popular cause," said Lauper, who sported a bun full of bleach blonde dread locks and a head-to-toe black leather pant suit for the event. "We can't call ourselves a free society when a certain group of people have civil liberties that are up for grabs," she continued, tears welling as she spoke.
Drawing a red carpet full of talented, artistic, and strong women (and a couple gents), music producer and third year event co-chair Linda Perry stopped by to chat with SuicideGirls. She told me about what it was like to grow up punk rock in the straight world, and her relationship with singer Pink.
Of the evening, Perry said, "It's a human event to me. It's not just a gay and lesbian event. There's so much to do in our community as humans, to help each other out. The Center provides healthcare, legal and domestic care, a senior program, and a monthly youth program. Kids are being thrown out every day for going to their parents and telling them 'hey Mom Dad I'm gay.' And instead of their parents embracing them like a parent should, they say 'Get out. You're sick. There's something wrong with you.' And the child is growing up on the street, prostituting, drug addicts. The Center offers all these wonderful things for them to help make their life better."
The petite (and very tatted) brunette was soft spoken and confident. Her advice for those of us who don't quite fit in with the mainstream cookie cutter mold of how women "should" look or act? Stay strong – and sweet: "When I was a kid people looked at me differently because I was a punk rocker, but my personality made up for it. If an older person looked at me funny, instead of being mean and agro, I would be really sweet and be me, and they would completely look at me differently…I feel that to overcome obstacles you can't throw more obstacles at them. Being defensive is just another obstacle."
Wearing chunky black Ani Difranco-esque boots, the former 4 Non Blondes singer, who's now more known for her songwriting skills, gushed about her good friend, Pink. Referring to the pregnant pop star who revealed she was 'with child' on Ellen last November, she said, "Alecia's going to be a great mom. Alecia and Carey will be great parents because they are going to accept their child for who they are. If their kid comes home one day and says they are gay, they will be okay with it."
Perry is currently touring to support her new album 8 Songs About a Girl, with her band Deep Dark Robot.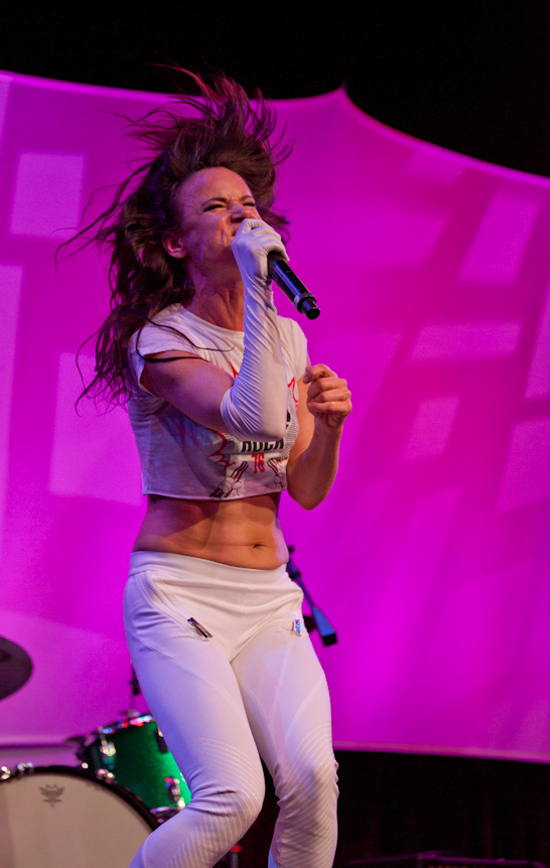 Rocker/actress Juliette Lewis let loose on the red carpet and inside, and looked stunning in a short white satin dress. She divulged to us why she's drawn to dark roles, and also rapped especially for SG:
"I'm always drawn to character work, interesting stories, and something that's out of the ordinary."
Her new film Sympathy for Delicious (in theaters April 29), tells the story of a wheelchair bound DJ who discovers a Jesus-like ability to heal the wounded and dejected of Los Angeles – although not himself. Of the controversial film, which is Mark Ruffalo's directorial debut and stars Orlando Bloom and Laura Linney, she says, "It's totally unique, strange, adventurous. It's about healing and faith and letting go of ego, and also about a rock & roll band. I play a bass player in the band."
(Some fans of Ruffalo, who charmed in the Oscar-winning film The Kids Are All Right, will be keen to know that the upcoming flick Normal Heart has him playing a gay man.)
Creating an on-the-spot quasi-rhyme for our site, Lewis offers this gem:
"Be loud and proud and always recognize the power of your own voice. Not just looking outside, you gotta look inward. Recognize your own strength."
Lewis, who roused the crowd of 600 with a three-song set which included a table dance during an apropos cover of the CCR/Tina Turner hit "Proud Mary," says she's crossing her fingers she'll be working musically with Linda Perry soon.
Next to pass us on the red carpet was George Gray. Game show geeks will be pleased to know that he's the new announcer for Drew Carrey's latest undertaking; veteran hit show The Price is Right. Gray also happens to be an avid SG fan, and raved that we're…. "Edgy! You know what to expect from mainstream stuff, but with [SG] I think Bettie Page, lava lamps and a vintage car parked in the drive."
Well thank you.
Twilight and comic book fans will recognize the name Jackson Rathbone, who played Jasper Hale in The Twilight Saga and Sokka in The Last Airbender. Also a musician, the suave 26-year old (who hearts SG) will be on tour with his band 100 Monkeys starting August 28. He enthused, "I love the SuicideGirls. I've always been drawn to that punk attitude. Not letting anyone else define who you are except yourself." The proud owner of nine tattoos, he admits that if he weren't an actor, he'd have more. On his iPod right now? The band Mr. Heavenly.
Just before going in to spy on the auction, which offered up a Kat Von D tattoo to a lucky bidder (who paid over $10,000), I spoke with country singer Chely Wright, who attended with fiancée Lauren Blitzer. She said that coming out for her was a matter of life or death:
"It was a big decision to come out. I had been hiding it for a long time. It wasn't a new realization for me. The balance sheet of my life became irreconcilable. It was a big decision. I knew that it might affect my career negatively. Now, my life is fuller. I did the right thing. I think I'm learning that I still have friends in Nashville."
Wright is the first and only openly gay country singer to date.
The documentary about Chely's coming out, Wish Me Away, premiered in Nashville. In it, she says, "Here's the Achilles heel of hiding. When you're bewildered, stumped and scared. When you're in hiding. You have nowhere to turn. Because nobody knows your secret and when you're in pain you can't reach out to anybody. I have a network now. That is the beautiful benefit of living in the light."
Of shows like The Real L Word, Wright says, "any time you can get a positive image of people like us in TV and the media, it's important because young people are looking for people with whom they can identify."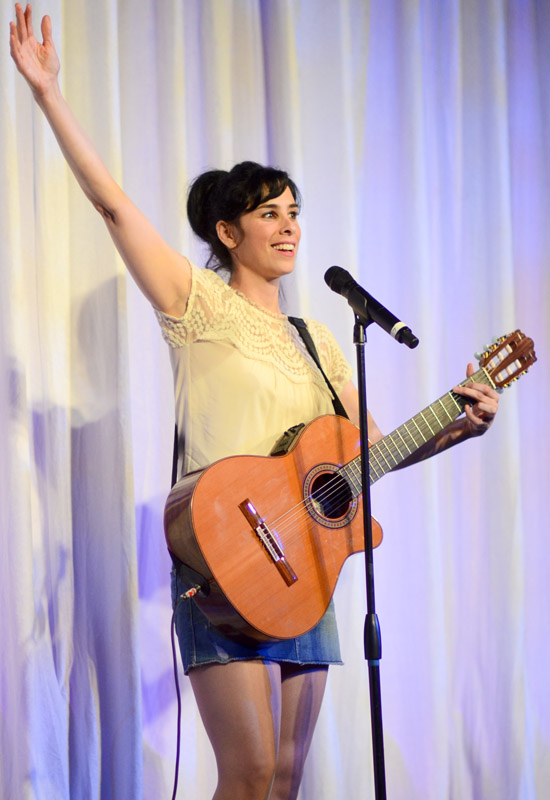 The always unpredictable Sarah Silverman was in the house, and earned the wrath of a drunken heckler who blurted obscenities when she dared to bring up religion in her comedy act – specifically, when she talked about Christians who question her about why the Jews killed Jesus. She rolled with the interruption, segueing into a conception joke about having once shot out of her father's pee hole. Seemingly off-putting given the overwhelmingly lesbian crowd, in the end she saved the day, spouting the clever punch line, "I can't believe I was ever that skinny."
An Evening With Women, celebrating art, music and equality is an annual fundraiser thrown by the Los Angeles Gay and Lesbian Center. For more info and to donate, visit: www.lagaycenter.org/.
Photography: Lok Hwa, Lydia Marcus, and Faye Sadou

***
Darrah de jour is a freelance journalist who lives in LA with her dog Oscar Wilde. Her writing has appeared in Marie Claire, Esquire and W. In her Red, White and Femme: Strapped With A Brain – And A Vagina columns for SuicideGirls, Darrah will be taking a fresh look at females in America.