By Blogbot
This Wednesday, April 27th on SuicideGirls Radio, hosts Nicole Powers and Moxi and Bradley Suicide will be joined by buzztastic LA rockers The Knitts.
NOTE: This week's show will be an hour later, starting at 9 PM on ZHollywood.tv, to accommodate a special 2-hour edition of Drumsmack!
If you have questions for the SG Radio crew or our guests, you can call in during the live broadcast at: 1-855-TRV-inLA (1-855-878-4652)
**UPDATE**
ICYMI: Watch this week's show feat. The Knitts here or via the player below.
For updates on all things SG Radio-related, like us on Facebook and follow us on Twitter and Instagram.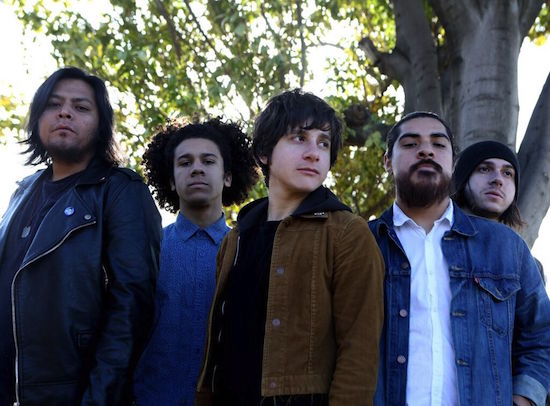 About The Knitts
Garage rock quintet The Knitts — Charlie Volkens (guitars), Justin Volkens (vocals, ukulele), Jaime "Jimmy" Luque (bass), Victor Portillo (guitars), and Brandon Sinclair (drums) — have graduated to the big leagues. Since first launching in 2011, The Knitts have honed their skills in the studio with a handful of releases and on stage via endless shows throughout the indie circuit of greater Los Angeles. Their sound was birthed and nurtured in North Hollywood, the Valley as the locals call it, but their style and aesthetic is uniquely L.A.
For proof, sip on their latest single, "Get Up Get Out," which follows in the footsteps of Los Angeles rock royalty like Cold War Kids, Fitz and the Tantrums, Jane's Addiction, and Haim. Reflecting an artistic graduation for the group, "Get Up Get Out" sees a more mature Knitts, with an evolved songwriting skill set, a clearer sense of self, and an impressive cannon of life experience for a band so young. Take, for example, the track's lyrics. When lead vocalist/keyboardist/primary songwriter Justin Volkens sings, "I started young thinking patience is virtue/Now it seems my cards have been dealt/You're the type that took all my failures/And turned them into love songs," it comes from a place built on heartache and pain.
The track itself is a bold take on garage rock and post-punk, with aggressive guitars and a punk rock, fuck-you attitude. Its charged, jumping chorus is melodic enough to inspire sing-along sessions yet angry enough to ignite bar fights and mosh pits, an energy perfectly brought to life via the track's youth revolt of a music video. This juxtaposition of nice and naughty heard on "Get Up Get Out" is a perfection reflection of their live shows, which often sees singer Volkens splitting his time on the stage with a ukulele in hand and riding above his fans when crowd surfing.
The current iteration of The Knitts embodies the final form of the rock rookies following a few lineup changes during their formative years at the former Hollywood music venue, The Knitting Factory, from which they adopted their name. Composed largely of the Volkens clan, the group features big brother Charlie on guitar, middle brother Justin on vocals, and baby half-bro Brandon Saige Sinclair-Volkens on drums, with lead guitarist Victor Portillo and bassist Jaime "Jimmy" Luque rounding out the band.
The band self-released their 2013 debut EP, "Gutterboy," a collection of songs recorded in a matter of days. It marked the beginning story of these budding artists ready to leave their mark. Currently, the band is preparing their next project, the "Simple Folk" EP, out spring 2016 on Knitting Factory Records and featuring lead single "Get Up Get Out," which sees the group flexing the songwriting prowess they've been grooming for the past four years.
Now, with power single "Get Up Get Out" in tow and a newfound level of buzz lighting a fire underneath the collective creative unit, The Knitts are making their voice heard. And it's loud and clear: The Knitts are one must-watch, must-listen, must-experience act impossible to ignore.
For more info on The Knitts visit their website, Facebook, Twitter, Instagram, SoundCloud, and YouTube Channel.