by Blogbot
A column which highlights Suicide Girls and their fave groups.
[Above: Aadie's dog Rocket a.k.a. The Bubble Slayer]
This week, Aadie Suicide brings on the warm and fuzzies with Cute Overload.
Members: 1409 / Comments: 6,392


WHY DO YOU LOVE IT?: Because it's Cute Overload! I not only get to see the sweet and humorously charming videos the other SGs and members post, I also get to see pics of their pets and SGs as babies too!


DISCUSSION TIP: If it's cute and it makes u grin, post it!!



BEST RANDOM QUOTE: OMG <3


MOST HEATED DISCUSSION THREAD: If u can't take the heat, get out of the kitchen!!! We want CUTE, not mediocre!! Lol. No, no, there's no heated discussions. We're all happy here 🙂


WHO'S WELCOME TO JOIN?: Everyone!!!!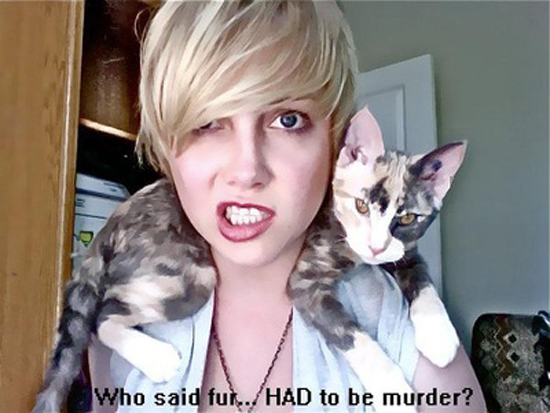 [Above: Aadie and Eureka]
***
Related Posts:
SuicideGirls' Group Therapy – Eevie, Luffy, and Praesepe on SG420
SuicideGirls' Group Therapy – All on Urban Art
SuicideGirls' Group Therapy – Clio on Hardcore Music
SuicideGirls' Group Therapy – Epiic on Hirsute
SuicideGirls' Group Therapy – Tarion on Atheists
SuicideGirls' Group Therapy – Rambo on Photography
SuicideGirls' Group Therapy – Thistle on Vamos Gigantes