by Blogbot
A column which highlights Suicide Girls and their fave groups.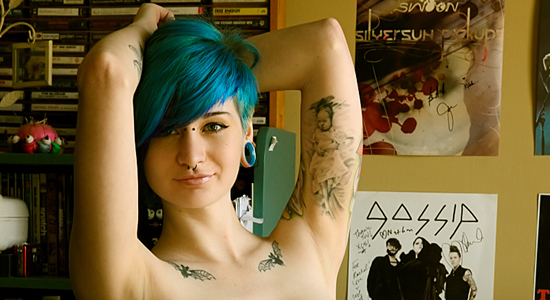 [Zephyr in 59 Sound]
This week, Zephyr Suicide takes us on a tour of a group that's bigger on the inside than it is on the outside; it travels through space and time in a TARDIS and is called Doctor Who.
Members: 1,054 / Comments: 8,827


WHY DO YOU LOVE IT?: Doctor Who is just a fun show. I've been watching it for years, and got started on some of the older episodes from the 1960s. It's got aliens, time travel, paradoxes, and robots — what more could a girl want?




DISCUSSION TIP: Don't say it's a kids program!


BEST RANDOM QUOTE: "Should I be worried that I find girls with plastic cups on their heads holding sink plungers and egg whisks mildly attractive?"



MOST HEATED DISCUSSION THREAD: Pretty much any of the episode / theory threads. No one gets angry, but it gets pretty serious in there.


WHO'S WELCOME TO JOIN?: Anyone! It certainly would help if you watched the show though — it could get confusing otherwise. 




***
Related Posts:
SuicideGirls' Group Therapy – Ryker on Harry Potter
SuicideGirls' Group Therapy – Bradley on The Kitchen
SuicideGirls' Group Therapy – Apple on All Your Base Are Belong To Us
SuicideGirls' Group Therapy – Setsuka on Ass Appreciation
SuicideGirls' Group Therapy – Noir on The Kitchen
SuicideGirls' Group Therapy – Exning on Body Mods
SuicideGirls' Group Therapy – Ceres on Girls Only
SuicideGirls' Group Therapy – Frolic on Celeb Worship
SuicideGirls' Group Therapy – Cheri on Skateboarders
SuicideGirls' Group Therapy – Noir on SG Military
SuicideGirls' Group Therapy – Exning on Weight Loss
SuicideGirls' Group Therapy – Aadie on Cute Overload
SuicideGirls' Group Therapy – Eevie, Luffy, and Praesepe on SG420
SuicideGirls' Group Therapy – All on Urban Art
SuicideGirls' Group Therapy – Clio on Hardcore Music
SuicideGirls' Group Therapy – Epiic on Hirsute
SuicideGirls' Group Therapy – Tarion on Atheists
SuicideGirls' Group Therapy – Rambo on Photography
SuicideGirls' Group Therapy – Thistle on Vamos Gigantes