By Blogbot
This Wednesday, July 15th on SuicideGirls Radio, hosts Moxi Suicide, Nicole Powers and Bradley Suicide will be joined by the seriously badass LA rockers Diamond Lane.
You can listen – and watch – the world's leading BYOB radio show live on Wednesday nights from 8 til 9 PM [note new day/time] at our state-of-the-art all digital home: TradioV.com.
If you have questions for the SG Radio crew or our guests, you can call in during the live broadcast at: 1-855-TRV-inLA (1-855-878-4652)
For updates on all things SG Radio-related, like us on Facebook and follow us on Twitter.
**UPDATE**
ICYMI: Last week's show feat. Diamond Lane.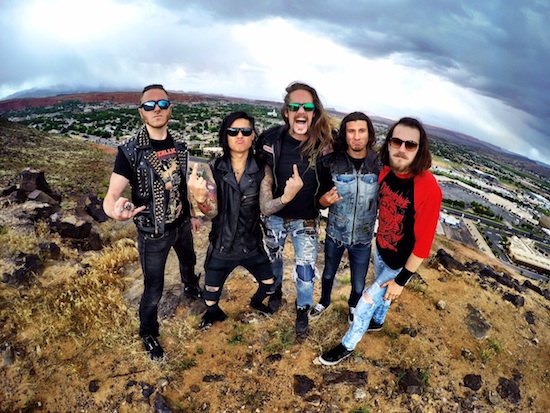 About Diamond Lane
Diamond Lane are Brandon Baumann (vocals), Jarret Reis (guitars), Ray Zhang (bass), Dave Vandigitty (drums), and Ian McLaren (guitars). Most recently their music has earned the Los Angeles band the accolade of being Fox Sports Artist of the Month, showcasing their tunes as the soundtrack for all televised sporting action nationwide — a feat never-before accomplished by an unsigned, completely DIY brand. The video for "The Enemy" garnered a Top Pick selection from Classic Rock Magazine, and reinforces the momentum behind the 2014 full-length album, Terrorizer.
This release represents Diamond Lane in peak form, having distilled a no-nonsense collection of songs that showcases their true firepower and raw energy. With classic twin guitar attack, rock-solid rhythms and dynamically powerful vocals, Diamond Lane provides a fresh modern take on American hard rock and heavy metal music. With a growing following built on their engaging live performances, the five-piece is known for putting on an immersive show that captivates their audience in a unique and progressive way, firmly reinforced by the personal connection with their fans and relentless blue-collar work ethic.
With 2015 well under way, Diamond Lane continues to further their horizons worldwide, recently wrapping 30 dates across 8 states, including feature performances at the Retrospect Rockfest and Rocklahoma festivals. From the road to the studio, the band is already under way with the recording the next full-length release. With a West Coast tour looming for August, the Diamond Lane machine strives to reach new audiences in new territories as often as possible, all while delivering top notch tunes and having a damn good time. Raise em up!
For more info visit Diamond Lane's website, SoundCloud, Facebook, and Twitter.