By Blogbot

[Above: Guns 'N' Roses playing live at LA's Music Machine — a show which Vicky Hamilton booked in 1986.]
This Wednesday, May 18th on SuicideGirls Radio, hosts Nicole Powers and Moxi and Bradley Suicide will be joined by legendary music mover & shaker, Vicky Hamilton, whose golden touch has been bestowed upon Guns 'N' Roses, Mötley Crüe, Poison, and Faster Pussycat, to name but a few. She'll be sharing fascinating backstage and backroom stories from her must-read new memoir, Appetite For Dysfunction.
You can listen – and watch – SuicideGirls Radio live on Wednesday nights from 8 til 9 PM at our state-of-the-art, all digital, 100% Hollywood home: ZHollywood.tv
If you have questions for the SG Radio crew or our guests, you can call in during the live broadcast at: 1-855-TRV-inLA (1-855-878-4652)
**UPDATE**
Such a fun evening with legendary music manager-turned-author Vicky Hamilton, who gave us the 411 in the glory days of the Sunset Strip and the bad boys and girls that ruled it! Watch the how here, or via the player below!
For updates on all things SG Radio-related, like us on Facebook and follow us on Twitter and Instagram.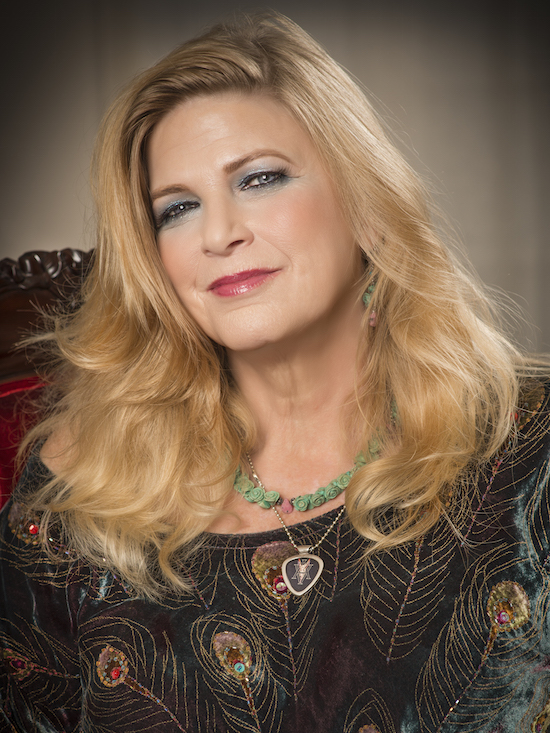 [Photo of Vicky by Robert John]
About Vicky Hamilton
Long time Grammy Award-Winning music industry executive and personal manager, Vicky Hamilton has been featured on VH-1s Behind the Music, the BBC series Born To Be Wild, The Golden Age Of American Rock, and Biography Channel documentaries on Guns 'N' Roses, Brett Michaels, and Mötley Crüe.
Considered one of the most successful music executives in the industry, Vicky has discovered, developed or managed the careers of Guns 'N' Roses, Mötley Crüe, Poison, Faster Pussycat, and many others.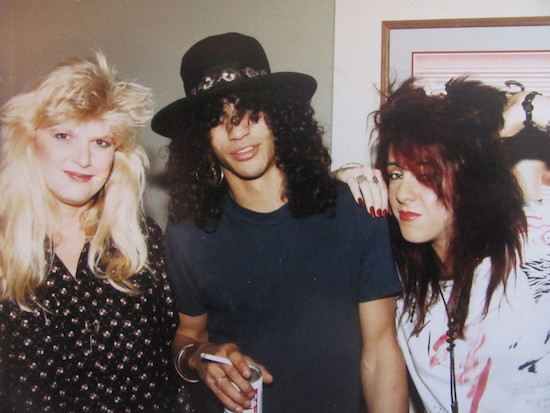 In 1988, David Geffen hired her as A&R executive at Geffen Records, where she stayed until 1992. She has also worked with famed manager Elliot Roberts at Lookout Management/ Vapor Records, before moving to Capitol Records as A&R consultant with longtime friend Gary Gersh.
At the House of Blues after watching Johnny Cash perform, Rick Rubin (Def Jam, American, Columbia Records) suggested she make a record with June Carter Cash. Hamilton shopped June's demos around to all the major labels but there was a reluctance to sign this country legend. Unperturbed, Vicky started her own label Small Hairy Dog and gave June a label to call home. Her CD, Press On was released in 1999 and earned a Grammy Award in 2000. As Hamilton later stated, "I didn't plan on starting a record company, I just knew that June's music needed to be heard."
Currently, Vicky owns and operates Aesthetic V Management and Productions, which represents and develops bands, artists, and special projects. Her new documentary, Until The Music Ends, is currently in production, and features Slash. Her two feature length scripts, Metal Maven and Gothic City are also complete and currently being shopped. Glitter Beach, a glam rock surf musical she co-wrote is in development, and has secured Hollywood "It" boy director, Daniel Henning.
Vicky Hamilton's book, Appetite For Dysfunction, is out now and available on this website and on Amazon!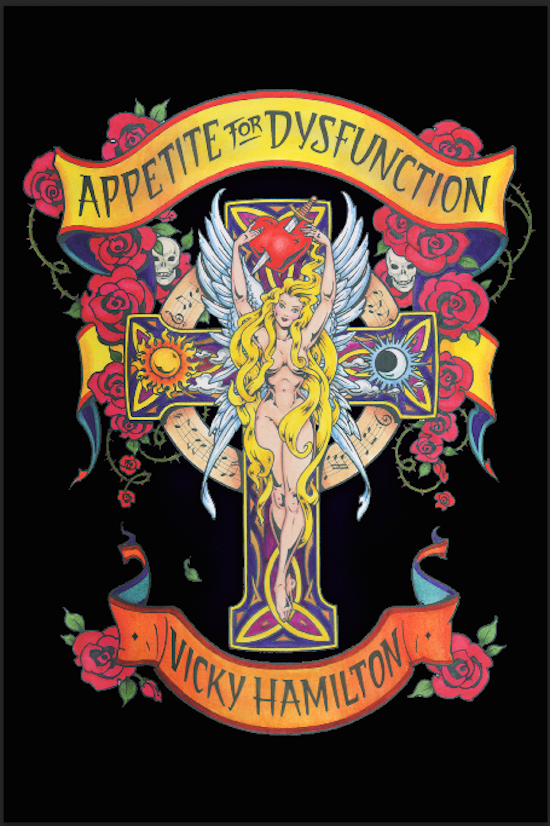 [Book cover by Maxine Miller]
For more information visit Vicky's website, Facebook, Twitter, Instagram, and Tumblr.

The World's Leading BYOB Radio Show Is Sponsored By Mangria
"As a nightly consumer of red wine, I was shocked one evening to find I had just half a glass left in the bottle. So I did what any decent alcoholic, ex-con, American would do… I went to the fridge and the liquor cabinet, then poured, mixed and measured. Thus Mangria was born." — Adam Carolla
For more info visit Carolla Drink's website, Facebook, Twitter, and Instagram.