by Aaron Colter
There are so many cool things to read online other than my dribble, so please check out all the neat links of stuff I found interesting this week. Next week, I'll write about beer. That'll be fun. You like beer, don't you? Good. Me too.
1. Watching the Murder of an Innocent Man
This feature in the NY Times Magazine is one of the most captivating stories I've read in a long time. The commentary of poverty, globalism, religion, politics, families, and strangers combines into a stunning narrative about the consequences of actions, both big and small. I know, you're going to scroll down to the end of the first page and think, "Holy fuck, ten more pages, I'm not reading this shit." But trust me, read it. Print out the pages and carry them with you for reading while on public transit, or late at night while ignoring the awful bile that's on television, or in the morning while eating breakfast, or in the bathroom while taking a shit – I don't care, just read the damn thing.
2. Ilegal Photo Tour of New Orleans Six Flags
This link is a little older, but maybe you haven't seen it yet. It's a large collection of photos, each worth a thousand or so words, so my writing about them is futile – just take a look.
3. Commission a Sketch for Justice
You probably heard the story about a Texas cheerleader who was kicked off the squad for refusing to specifically cheer for a student who sexually assaulted her only weeks prior. But recently, that young girl lost her case against the school, which she sued for kicking her off the squad. One of the more fucked-up parts of our judicial system is that, sometimes, if you lose a case against someone, you have to pay their legal fees. While this notion is intended to stop frivolous lawsuits (because we all know that's happened), unfortunately it sucker-punches the victim, as in this case, who has little financial resources. So, this teenager is now on the hook for $45,000 in legal fees acquired by the school. One comic artist is commissioning sketches to help pay for those fees. Please donate or order a sketch today.
4. Top 10 Overlooked Bob Dylan Songs
Hey, look, the title says what it is. And, so it is. Written by Douglas Wolk, who is something of a freelance genius here in Portland, and around the country, nay, the world!
5. Transmetropolitan: Around the World – Art Book
Transmetropolitan is quite possibly my favorite comic of all time, and there are so many incredible artists in this book, so the steep $50 price tag is totally worth it, even if the shipping fees aren't included. I wish I had more images to show, but here's an awesome one from Camilla d'Errico that I really love.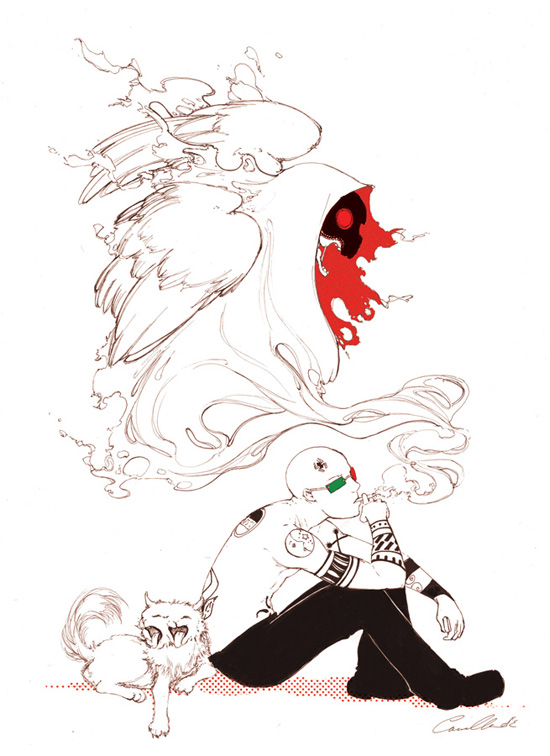 That's all for this week, and seriously, read the NY Times feature, it'll change your life. Oh, and here's a bonus link to some free music from Point Juncture, WA.