It's impossible to pin down Clive Barker, the man who created the iconic Pinhead character. The multi-faceted and irrepressible filmmaker, video game designer, artist, and author travels through different mediums and genres with the kind of ease that a shapeshifter might exchange forms. Take, for example, his current diverse slate of creative output. He's recently released anniversary editions of two of his most popular novels: Weaveworld and Cabal, which respectively reside towards opposite ends of the fantasy/horror spectrum (something that Barker envisions as a boundaryless continuum). Meanwhile he's writing his next adult novel and applying paint to canvas for two more installments of his popular Abarat all ages adventure, which is told in words and pictures. A new comic series, New Testament, came out earlier this year, which Barker produced with Mark Miller, who also serves as his editor and the Vice President of his production company, Seraphim. And Barker is currently presenting an art exhibition at Culver City's Century Guild in association with the gallery's founder and owner Thomas Negovan. Entitled Grand-Guignol, the group show will feature Barker's paintings alongside other works he's curated with Negovan. In addition, on Saturday the Beyond Fest will present a special screening at Hollywood's Egyptian Theater of the Cabal Cut of Night Breed, which sees Barker's cult classic film restored to a form that more closely resembles his original vision and the book upon which it was based.
On a recent edition of SuicideGirls Radio, the British born and internationally acclaimed master of multiple light and dark arts joined us by phone from his Beverly Hills home to talk about the varied proverbial irons he's keeping warm with his creative fire.
Read the transcript of our 30 minute conversation with Clive Barker on SuicideGirls.com.
[Miller and Negovan also joined us in-studio – you can view the full two-hour show here.]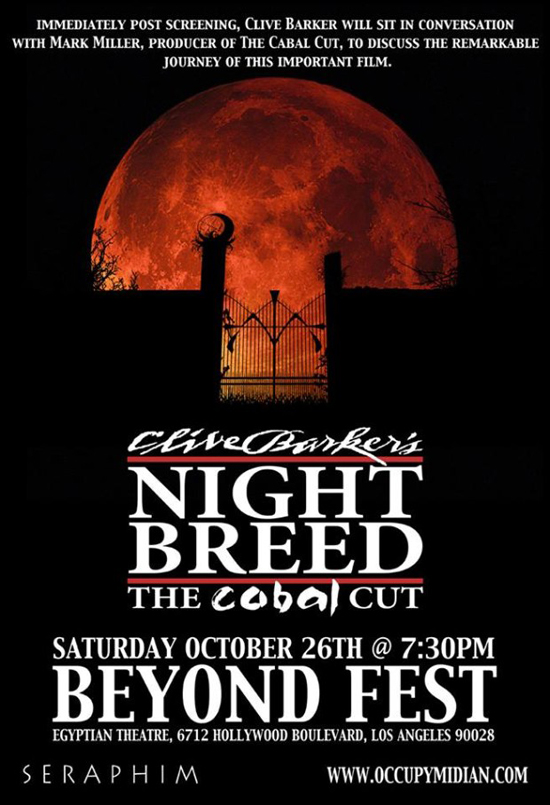 The director's Cabal Cut of Night Breed, which features over 45 minutes of long lost additional footage, will be screened at the closing night gala of the Beyond Fest at the Egyptian Theatre in Hollywood, CA on October 26.