by Blogbot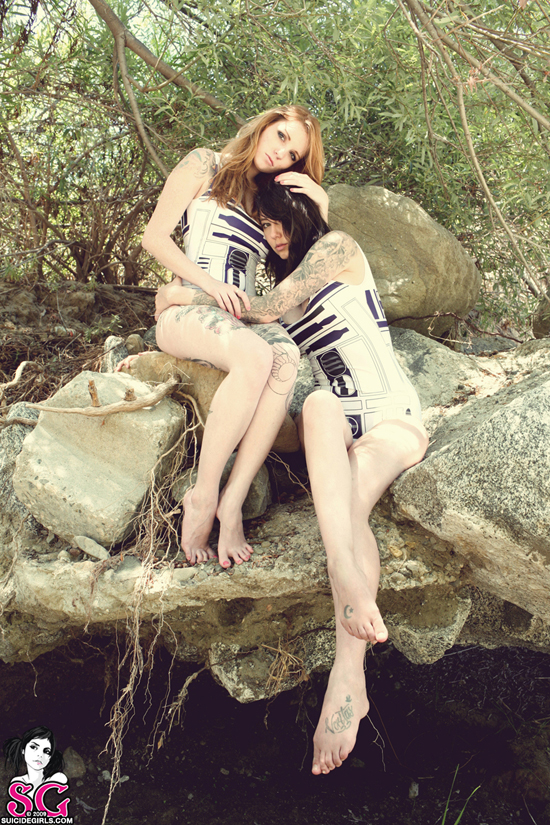 [Kemper and Bob in Droids You're Looking For]
Suicide Girls love getting dressed up almost as much as they like taking their clothes off. San Diego's monster Comic-Con event is therefore a major highlight on our calendar each year, since it's an excuse to play dress up.
This year we're cooking up an extra-special Comic Con cosplay wardrobe, with a little help from clothing manufacturer and retailer American Apparel, pop-culture event planners Bubble Punch, and our fave Sunset Strip geek emporium, Meltdown Comics.
Comic chic chicks Chubby Bunny and Yume Ninja of Bubble Punch will be designing a series of three different sexy cosplay themed outfits for our ladies to wear while they man our Comic-Con booth. Each of the outfits will be made using basics available at your local American Apparel store. We'll also be producing "How To" videos with the help of our friends from Meltdown so you can recreate the costumes the Suicide Girls will be wearing to Comic Con at home.
The three "How to" videos – one for each SG cosplay costume – will be posted on SuicideGirls' Facebook page in June. The costumes will then be debuted live at a special pre-Comic Con party to be held at Meltdown Comics on July 7th. Follow @SuicideGirls on Twitter for up to the minute news, updates, and photos.
You can also catch our ladies in their unforgettable cosplay outfits at booth #1730 of Comic Con San Diego 2012. If you're planning on attending the convention on more than one day, be sure to come back and visit us again, since our team of sexy booth girls will be cosplaying new outfits each day!
Related Posts:
Dirty Laundry: Cosplay 4 Comic Con