By Blogbot
This Wednesday, April 12 on SuicideGirls Radio, hosts Nicole Powers and Bradley Suicide will be joined by Jade Howard and Dennis Hamlin of the LA-based band 222, who'll be returning to our studio to talk about their new album and upcoming tour.
**UPDATE**
Watch last night's show feat. the triumphant return of Jade Howard and Dennis Hamlin of 222 here or via the player below. The duo last visited our studio in June 2016 — yes, SuicideGirls Radio had them on BEFORE they were KROQ famous!!!
You can listen – and watch – SuicideGirls Radio live on Wednesday nights from 8 til 9 PM at our state-of-the-art, all digital home on zinna.tv or on our Facebook page via Facebook LIVE!
For updates on all things SG Radio-related, like us on Facebook and follow us on Twitter and Instagram.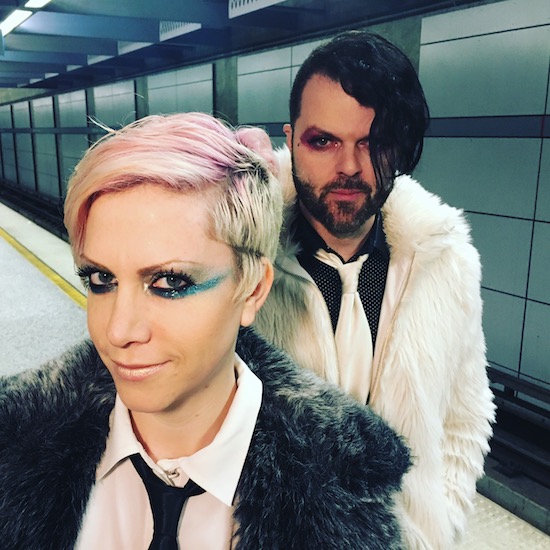 About 222
The hooks keep coming—and so do the left turns—on the new and second album, I'm Not Trying To Be You…Just Kidding I'm Trying To Be You, by the Los Angeles-based 222. Creatively blending alternative rock, rooted in the '80s and '90s, with modern dance flares throughout the eleven tracks, the co-ed duo of vocalist Jade Howard and vocalist/guitarist Dennis Hamlin create a sound that's both irresistible and mysterious.
I'm Not Trying To Be You… is the follow-up to 222's debut album 2015's Libretto. That album's first single "One Night Stand" earned them airplay on Los Angeles tastemaker radio station KROQ, among other radio outlets. Their provocative self-produced videos for "One Night Stand" and "Headcake" are vivid mini movies; they can be seen—along with the "Fair Weather Send Off" lyric video—on 222, their YouTube channel. 222 recorded, and arranged all songs on I'm Not Trying To Be You… — as they did on their debut Libretto — and recorded in their home studio.
"Jade and I have extremely similar taste which makes it a very simple, easy process," says Dennis. "I write, arrange, and play all the instruments on the album and run it through Jade's filter. She gives me her opinions/ideas and we change whatever needed resulting in 222. Jade and I have been friends for a long time; we know each other very well and almost always agree on what the music should be. Live, the ferocious Tosha Jones plays the drum parts and came into the band a fan so she too has very similar taste so it just works. Because of that when we all add our own personalities into the live aspect it only gets better."
The prolific songwriting team of Jade and Dennis draw their musical inspiration from books, movies and life experiences. On the new album, they dive deeper into song concepts while keeping the emotional element sourced from personal places. "Our life experiences definitely play a big part in our songs," says Dennis, who also produced the album. "Even on the more extreme ideas, there is usually some sort of home ground from which they came."
"The title track 'I'm Not Trying To Be You…' is about Jade and I moving out to LA from our small towns and being around each other so much that we actually start becoming each other, says Dennis. "I feel that describes how this album differs from the first in the way that the writing is sort of a sequel to Libretto; it just flowed naturally from the last one but there is definitely evolution happening." Jade adds, "We have gotten to the point where we don't have to talk. We just start doing the same thing or get ready to go somewhere together."
222 are psyched to bring the new songs on the road and kick them into an even higher gear. The band is committed to deepening their bond with fans and garnering new ones. Asked what they'd like to overhear one fan talking to another right after a 222 show, Dennis says, "Refreshing to see someone doing their own art and not following a trend. And they're fucking amazing!!"
For more on 222 visit:
222band.com
facebook.com/222jdband
instagram.com/222jdband/
twitter.com/222jdband
Related Posts
SG Radio feat. 222 — June 6, 2016


The World's Leading BYOB Radio Show Is Sponsored By Mangria
"As a nightly consumer of red wine, I was shocked one evening to find I had just half a glass left in the bottle. So I did what any decent alcoholic, ex-con, American would do… I went to the fridge and the liquor cabinet, then poured, mixed and measured. Thus Mangria was born." — Adam Carolla
SuicideGirls Radio / Carolla Drinks Offer
You can purchase all three delicious flavors of SGR's fave luscious libation, Mangria — and the most excellent Endless Rant IPA — via CarollaDrinks.com. Fans of SG Radio can get $5 off any bottle of Mangria using this special discount coupon code: SG (unlimited use, code is good until December 31, 2017).
For more info visit Carolla Drink's website, Facebook, Twitter, and Instagram.