By Blogbot
This Wednesday, April 6th on SuicideGirls Radio, hosts Nicole Powers and Moxi and Bradley Suicide will be joined by incite frontman Richie Cavalera and his gorgeous wife, Shonda Mackey. 
You can listen – and watch – the world's leading BYOB radio show live on Wednesday nights from 8 til 9 PM at our state-of-the-art all digital home: TradioV.com.
If you have questions for the SG Radio crew or our guests, you can call in during the live broadcast at: 1-855-TRV-inLA (1-855-878-4652)
**UPDATE**
Watch last night's show feat. Richie Cavalera of Incite and Shonda Mackey here or in the player below.
For updates on all things SG Radio-related, like us on Facebook and follow us on Twitter and Instagram.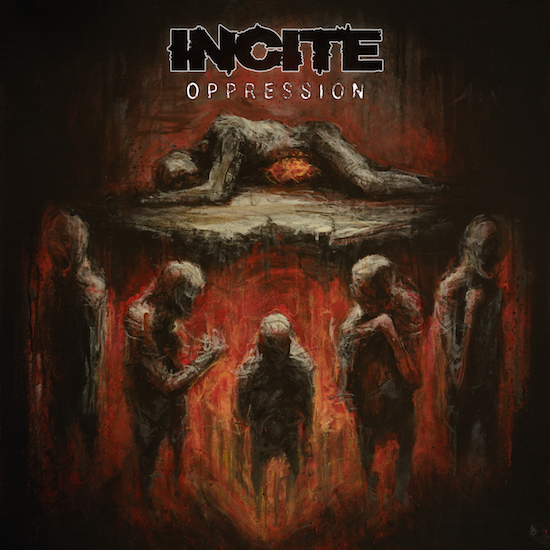 About Incite
Nothing compares to live energy. It transfers from the stage to the crowd and back again. Incite harness that spark on their fourth full-length album and highly anticipated 2016 metal release, Oppression (minus HEAD Records). In fact, it's something that the group — Richie Cavalera (vocals), Dru "tang" Rome (lead guitar), Derek Lennon Lopez (drums), Christopher "EL" Elsten (bass), and Kevin "Dis" McAllister (co-writer) — realized in the middle of the cycle supporting their critically acclaimed 2014 offering, Up In Hell.
"The whole first year of touring for Up In Hell really lit a fire under us to come out and make something that matched our live performances," explains Richie. "On Oppression, we were finally able to bottle that and put it into the recordings. Touring and playing every day sharpened our skills and brought us closer together as friends and as a band. The anger and rage we're still feeding off of is very strong, and it definitely shines through this body work."
Since the release of their full-length-debut The Slaughter in 2009, the Phoenix, AZ quartet has shared stages with everyone from Dillinger Escape Plan, Cancer Bats, and 36 Crazyfists to Crowbar, Soulfly, and Cavalera Conspiracy in addition to headlining countless gigs. Over the course of two more explosive offerings, All Out War (2012) and Up In Hell (2014), they've earned acclaim from Kerrang!, ARTISTdirect, and many others as well as "Album of the Week" honors from Revolver. Songs such as "Army of Darkness" charted Top 40 on the SiriusXM metal charts. However, 2016 sees the band evolve into a more brutal and brash beast ready to claw its way to the genre's upper echelon one show at a time.
For more info visit Incite's website, Facebook, and Twitter.

The World's Leading BYOB Radio Show Is Sponsored By Mangria
"As a nightly consumer of red wine, I was shocked one evening to find I had just half a glass left in the bottle. So I did what any decent alcoholic, ex-con, American would do… I went to the fridge and the liquor cabinet, then poured, mixed and measured. Thus Mangria was born." — Adam Carolla
For more info visit Carolla Drink's website, Facebook, Twitter, and Instagram.