By Blogbot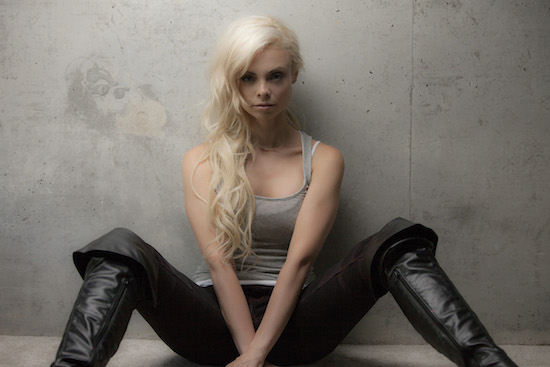 This Wednesday, April 13th on SuicideGirls Radio, hosts Nicole Powers and Moxi and Bradley Suicide will be joined by the gorgeous and super talented Australian singer Katja.
You can listen – and watch – the world's leading BYOB radio show live on Wednesday nights from 8 til 9 PM at our state-of-the-art all digital home: TradioV.com.
If you have questions for the SG Radio crew or our guests, you can call in during the live broadcast at: 1-855-TRV-inLA (1-855-878-4652)
**UPDATE**
Watch our show feat. Katja here or via the player below.
For updates on all things SG Radio-related, like us on Facebook and follow us on Twitter and Instagram.
About Katja
Katja Glieson is an Australian recording artist from Melbourne, Australia. She worked three jobs and saved every penny to make the move to Los Angeles in order to live out her dreams. Glieson first gained recognition in 2014 for playing 'Elsa' in a viral YouTube video "Princess Rap Battle," in which she raps with Snow White, which has been featured on Perez Hilton, Cosmopolitan, The Huffington Post, and MTV, to name but a few. She performed on the mainstages at LA Pride, OC Pride, and Capital Pride in 2014. After appearing in the "Princess Rap Battle," Glieson also released her original song "Look At Us" on YouTube, featuring Ongina from RuPaul's Drag Race and Zedakiah. Lyrically, "Look At Us" embodies female empowerment and celebrates the idea of staying true to who you are. Her latest single, "Ride The Wave," can be heard via Spotify. 
For more info visit Katja's website, Facebook, Instagram, and YouTube Channel.

The World's Leading BYOB Radio Show Is Sponsored By Mangria
"As a nightly consumer of red wine, I was shocked one evening to find I had just half a glass left in the bottle. So I did what any decent alcoholic, ex-con, American would do… I went to the fridge and the liquor cabinet, then poured, mixed and measured. Thus Mangria was born." — Adam Carolla
For more info visit Carolla Drink's website, Facebook, Twitter, and Instagram.