by Damon Martin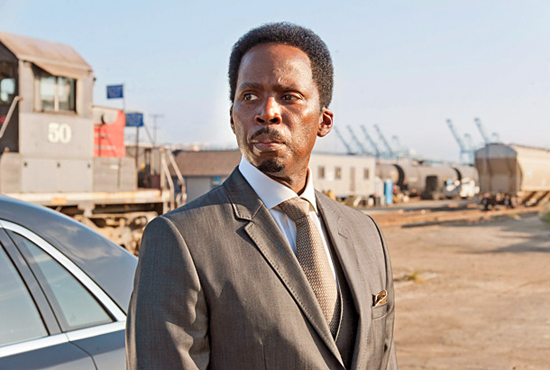 Over the past four seasons, Sons of Anarchy has been a show that has developed its cast along with its storylines. Creator Kurt Sutter has always created formidable villains inside and outside of the outlaw motorcycle club, but for Season 5 he upped the ante when introducing all new big bad Damon Pope.
Described as the biggest gangster in Oakland, Pope's name was first introduced at the end of Season 4 when enforcer Tig Trager took out his daughter accidentally when gunning for the leader of a rival gang. Now, Pope wants payback and he's getting it with devastating results, with all of the members of SAMCRO falling victim.
Veteran actor Harold Perrineau, who portrays Damon Pope, has worked for some of the best show-runners and directors in all of Hollywood, but he knew he had to be ready when stepping onto a set headed up by someone with the presence of Kurt Sutter.
"I've been saying this all along that I need to show up and know my lines because Kurt Sutter, he writes the shit out of that show. I'm really glad everybody really liked it, but that first episode Damon Pope is no joke," Perrineau said in a recent interview with SuicideGirls.
The first episode officially put a face to the name Damon Pope, and his reaction when coming head-to-head with the man who killed his daughter was nothing less than incendiary.
With his enemy Trager tied up in chains, Pope revealed that he had kidnapped his daughter and put her in a pit alongside several other victims. After dousing her with gasoline, Dawn Trager awoke, but only for a few seconds, before Pope stared at her father and said, "Know my pain," as he tossed his lit cigar into the pit, burning the young girl alive.
In his veteran career, Pope had seen a lot and acted in some very tough and even disturbing scenes, but even he was taken back when he read the script to the first episode he would appear in as the ominous Damon Pope.
"Kurt and I had the conversation after I got the job, and he said 'listen, your character's going to do some heinous things. Don't judge it, hopefully just go with us.' I was like, 'I was in prison in Oz, on Lost on the island, you probably couldn't scare me with anything,' and that first thing I was like 'Oh my god!'. I was flipped out as soon as I read it. I was like here we go," said Perrineau.
We're now well into Season 5, and Pope hasn't slowed down with his systematic destruction of the Sons of Anarchy. Perrineau promises that burning a girl alive may seem harsh, but that's nothing compared to what's ahead.
"Without giving away anything, he's definitely a different character. It was really interesting when I got the gig, and people asked me if I knew how to ride bikes, and if I looked really cool on a bike. I said 'You won't see Damon Pope on a bike.' When you do see Damon Pope you'll know why," Perrineau stated. "So this is a different kind of monster for SAMCRO and it's going to be tough for them to deal with him. All I can say after the first episode is it just gets worse."
Related Posts
Sons of Anarchy's Theo Rossi Says Juice Is 'Crying Clown' In Season 5
SG Interview: Kurt Sutter and Katey Sagal