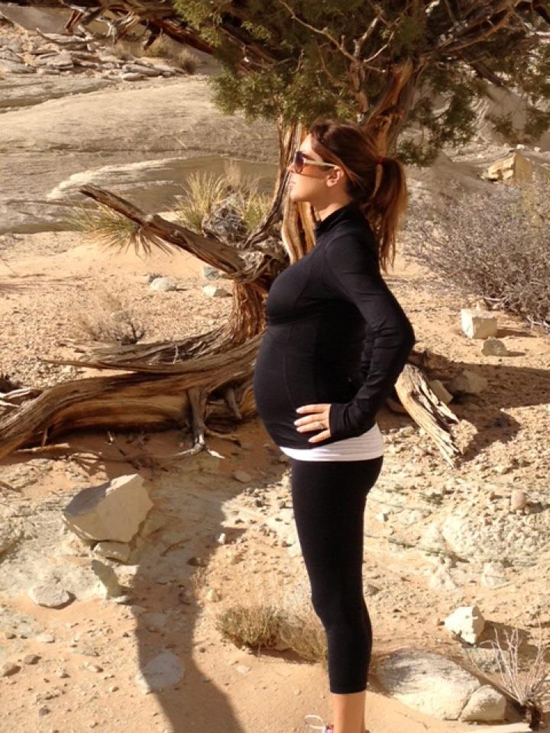 Rachel Uchitel is famous for being infamous. She starred on Dr. Drew's riotous reality show Celebrity Rehab, on which she spoke candidly about her destructive tendencies as a love addict with a proclivity toward various pills. In the past, she worked as Director of VIP Operations at Las Vegas's hottest night club Tao. There, she caroused with the ultra-rich and mega-famous. Among her indiscretions were affairs with two elite married men: golf phenom Tiger Woods and Bones star David Boreanaz.
Before Uchitel's name rocked headlines and Elin Woods' marriage, Rachel lost the two most important men in her life. Her fiancé died at the hands of terrorists in the 9/11 attacks, and her father died of a cocaine overdose when Uchitel was just fifteen.
She's been a media favorite. And by that, we mean, she's a tabloid celebrity that people love to denigrate. A peek at some of the comment boards below any story about Uchitel reveal the general public's scapegoating of the "other woman" as a bewitching siren that should carry the cross and absolve the cheating man of all responsibility.
Case in point, while Joy Behar of The View was busy apologizing for calling Uchitel a "hooker" on-air, newspapers around the country were swinging wildly in defense of Woods, with headlines like "Tiger Doesn't Owe Us An Explanation." In an exclusive interview, we asked Rachel about surviving that double standard, how her reincarnation as a wife and mother has changed her, and if Dr. Drew really is the rehab king.
Darrah de jour: Congratulations on your daughter, Wyatt. How has motherhood changed you?
Rachel Uchitel: Motherhood has changed everything about me. First and foremost, you find that you become all about somebody else. People talk about unconditional love. It's the first time I'd really experienced that and really knew what that meant. I put her before me in every circumstance. I've never truly felt like that before. I've never loved anything as much. She's the best thing that's ever happened to me, and I just feel so lucky. I can't believe that I waited this long to have a child. Had I known what it was like to have a kid of my own, I absolutely would have tried to have a child earlier in my life. Now, I'm thirty-seven years old and I want so many more! I don't have all the years ahead of me to just pop out kids when I want. I just love being a mother.
Ddj: How was your pregnancy?
RU: I tried to be really healthy during my pregnancy. I worked out almost every day, doing Pilates and water aerobics. I did Zumba up until my eighth month. A lot of walking. Walking is prevalent here in San Francisco, so I did a lot of that. I didn't have any weird cravings or overindulgent cravings, so it wasn't difficult for me to not over-consume.
Ddj: You're always pretty much in shape. You have a great figure.
RU: I try to. Again, I'm thirty-seven years old and I've always lived in a world where I'm competing with girls that are twenty-three in some way, shape or form. Living in Las Vegas when I ran night clubs, I was always the only girl there that wasn't half-naked. Most girls there are waitresses or dancers or whatever, and as a female you always want to look your best. I felt like I had to stack up against these gorgeous, fit young girls. So I was always conscious of trying to hit the gym as much as I could because I had a decade gap between me and them. And it always kept me trying to be better than I would, because I had them to look up to. The girls in Vegas have a high standard for fitness and looking good.
Ddj: Speaking of that, it was reported in 2010 that you were going to pose for Playboy. Is that still in the works?
RU: No. I was in talks with Playboy to do a shoot with them. I'm not in talks to work with them anymore. I was honored that we were even in talks. A lot of people have different things to say about Playboy, and the girls that are in Playboy, but listen — as a girl that's being offered to be in Playboy, it's definitely an honor. Whatever anybody else says about the person and the choice that they make about doing it, I felt very honored. At one point we did have a signed contract and I did back out, actually, last minute.
Ddj: I noticed online that you applied for a detective license. I joke with my friends that women are more intuitive and conscientious at detective work than the CIA. Are you still pursuing that or are you trying your hand at another career choice?
RU: I'm in a tough predicament. I'm right in the middle of it as you and I are speaking. In the last week, I've been having a kind of crisis about this. I love to work. I have a strong work ethic. I've had a lot of amazing jobs that people may or may not know about me. I used to be a television producer for Bloomberg News for many years. Loved my job, I was really good at it, loved the news and I'm a hard worker. I love to be challenged in that way. Now that I'm five-months into being a mother, I do want to go to work in some way. I want to have a hobby, and a steady income coming in, so I can contribute to the household. It's very difficult for me to get a normal job because my name proceeds me still. I have no desire to go work in a night club anymore. I'd love to go back into what I was doing, which was news. Local news. I'm not interested in entertainment news, quite honestly. My favorite shows are on HLN: Jane Velez-Mitchell or Nancy Grace. I'd love to be a producer; I mean, I'm not talking about on-air. I love writing for that, I love researching stories. You need somebody that believes in you and gives you a chance, and overlooks stuff that they may or may not know about you.
Ddj: You starred on Season 4 of Celebrity Rehab with Dr. Drew. He reportedly paid you a personal visit to convince you to join the cast. What made you decide to allow cameras in on your recovery experience?
RU: That's actually not true. I requested that. I didn't believe in the Celebrity Rehab brand. I thought it was just a TV show. I said no for a good two weeks about being on the show. Finally, I said, 'Listen if Dr. Drew and John Irwin [Executive Producer of Celebrity Rehab] will come meet me for a few minutes, then I'll make a decision based on that.' They both came. It was very odd. The second I sat down and looked at Dr. Drew I was in tears and I knew he could help me. I wanted someone to hear me and understand me. I immediately felt that with him. He had me at that meeting. I wanted to be in his presence and have him heal me, so to speak. I was so lonely and miserable.
Ddj: Dr. Drew seems to take on the role of doctor, father figure and friend to his patients on the show. What do you think makes Dr. Drew so effective in relating with his patients?
RU: I think that underneath everything he's a little bit of a co-dependent. It's such a great quality that he has. When he looks at you, he looks at you. He sees you and he hears you. That's such an amazing quality for someone that's so well known and so busy and someone that everyone wants a piece of. So when that type of person looks at you and hears you and wants to help you, that is a very attractive quality. He's a genuine guy. I've seen people give him a hard time. [They say] you're just a TV doctor, you're not a real doctor. They've never been in his presence and they've never been treated by him. After the show, he treated me for almost half a year later until I moved away — that's the only reason it stopped. He would come and meet me for an hour to two hours once a week, on his own time, without getting paid. Recently, I had a friend whose mother was struggling with food addiction. He took the time to write a long email about the different hospitals that would take inpatient treatment, how serious it was, and long story short, her mother went to one of these places and was there for two months.
Ddj: One part of Celebrity Rehab that is controversial is that Dr. Drew brings in people that are active in their addictions and he gets them on film. Do you think that the reality show aspect of Celebrity Rehab is a conflict of interest to the sanctity of the recovery process?
RU: No. Let me explain something to you. Whatever it takes an addict to get help is what it takes…My addiction wasn't life threatening. It wasn't like I was doing meth on the street corner, and was about to die. So, forget me for a second. But, some of the cast members on shows like this are serious heroin addicts, meth addicts, alcoholics, whatever their choice may be. Yes, they're being paid, yes they're hoping their career will be resurrected, but you can't help but deal with your problems when you're there. Yes, there's cameras in your face, yes there are cameras in every corner of the room, yes, I think some people tend to overreact or act out in front of the camera… but at the end of the day, there's no denying the help that you get when you're there. I can attest to the seven people that were there with me, that the moment we left, we were all in amazing places. Those people who had suffered for so long — at that moment, were, what I would call healed. They were off drugs for thirty days, they were happy to be with friends, they were clean, they were sober, they had all of the tools they needed.
There's a backlash because of a couple people who have died that have been on the show. It only brings to light those people and their addictions because they'd been on the show. They're addicts! It's not Dr. Drew's responsibility to take the drug out of their hand once they leave treatment. I don't understand why people say that they're being exploited. The chance they got by being on Celebrity Rehab was a chance to save their life. They chose to take that chance.
Ddj: You've been involved in two high profile relationships with married men. Without asking you to recount any personal details, I wonder if you feel that our society places the burden on the "other woman" more so than the cheating man in those types of relationships?
[Writer's Note: Rachel Uchitel would not comment on any questions related to Tiger Woods. She admitted that she had a relationship with David Boreanaz when he was married and has had relationships with married men. None of her answers reflect her experience with Woods.]
RU: My opinion on that is… Listen, it's a very touchy subject for people. Adultery and cheating. It's no fun to be the other woman, that's for sure. And I'm not even talking about in celebrity status, I'm talking about in everyday life. It happens a lot in everyday life with everyday people. You don't have to be on the cover of a newspaper to be in some scandal. It's tough because I feel like the man does not take any responsibility. Let's remember, for the most part, the man is the one making it OK in some way. I don't know about other people's situation, but in my situation with David. He was very clear to make it OK and to say that he did not have a relationship with his wife. And I chose to believe that. Now, I'm a smart girl. I didn't necessarily believe that that was the truth and I also didn't want to push it and ask any questions because I was happy in the situation I was in with him. I spent a lot of time with him, traveled with him. If he wasn't somebody that was in the newspaper, I would have assumed that I was in a monogamous relationship with him because I don't know how he would have time to go home and be with someone else. So I let it go. I believed what he was saying. And that's a very stupid, very ignorant thing for me to have done. But I didn't want to know the alternative.
Ddj: Denial is a really powerful thing. Were you in love with him?
RU: I thought I was. And I thought he was with me… I do think that sometimes [an affair] will rip your marriage apart and sometimes it strengthens your resolve and who you want to be with and what you want to do… The girl comes out as a home wrecker and a slut and a whore, and that was definitely not my relationship with him.
Ddj: There's a general forgiveness with regard to the man. I'm not trying to pin boys against girls, but it's like, "Maybe she seduced him, he was overcome…"
RU: The woman is always the temptress, the seductress, the person that lures the man into this awful thing and the man is helpless and weak in the knees and can be forgiven. That's the way that I see it and read it when it's written about anyone. The other woman is made out to be this cartoon character of the most threatening, seductive woman you can imagine who would steal your husband or your boyfriend away. And that's sometimes not the case. Sometimes the husband just isn't getting what he needs. Regardless of if it's at home or not. Sometimes it's an issue within the man himself and he finds it in other ways, shapes or forms and unfortunately sometimes that's by cheating on his wife. It doesn't really matter half the time what the woman looks like; it's the connection and the chemistry and quite honestly it's how she makes him feel that for some reason, he's not feeling like that.
Ddj: I'm not sure if you've read the book Love Junkie by Rachel Resnick. It chronicles the tumultuous relationships had between the narrator and her sex-addicted partners. As a love addict, prior to treatment, were you attracted to sex addicts?
RU: Yes and no. I don't really look at it that way. A sex addict to me is very different from a love addict. A sex addict has no connection with the person they're having sex with, and for a love addict, it's all about that emotional connection. And leaning on that person. For me, it's two totally separate issues. I have been with people that were also love addicts. The people that I've been with are mostly addicted to that connection, that you're codependent on each other.
Ddj: Sometimes a love addict is attracted to an aloof, unavailable person and they're trying to extract emotion out of them. And the sex addict needs that person to be dependent on them and shuts them out. But, that wasn't your experience?
RU: No. My definition of a love addict is that I mistook intensity for intimacy. So all this up and down and craziness and crazy things happening, that to me was mistaken for love. Another love addict also being crazy up and down with me and professing our love to each other and ignoring red flags and saying 'This is the best person I've ever been with!' Somebody that's obsessed with the notion of being in love and you kind of forget who you're in a relationship with. It doesn't even matter. You're just going on this whirlwind love fest. You could replace that person with anybody. Doesn't matter who. Just as long as there's somebody filling the seat.
Ddj: How have your relationships changed since getting treatment for love addiction?
RU: I attribute being on Celebrity Rehab for meeting my husband. Matt is somebody I would never have chosen to be with before. I always looked for people who had red flags that he doesn't have. He's a man with totally different qualities than anyone I've been with before and a different demeanor. Those are the reasons why we're in a happy, productive marriage. Dr. Drew used to say I had a 'bad picker'. He says, he adjusted my picker, so I could pick the right one. He also said not to date anybody for six months after rehab and to be careful who I jump into a relationship with and beware of the red flags and go slow. The first thing that I dropped was a type. I stopped saying, 'This is who I want to be with, this is who I'm looking for.' I let it happen with who it happened with. Matt is ten years younger than me. I've never dated somebody younger. But, I gave him a chance, and I'm very lucky I did.
Ddj: How did you meet your husband, Matt Hahn?
RU: We met on Facebook. He saw an episode of Celebrity Rehab and thought I was funny and I was friends of a friend of his. He sent me an email saying I made him laugh and he thought I seemed like a genuine person and he'd love to take me out for coffee.
Ddj: You must get letters like that a lot. What set his apart?
RU: I'm not sure. Normally I don't go on Facebook. I looked at his pictures and most of them were him with his sister and his brothers — as opposed to the typical douche bags popping bottles of champagne over half-naked girls. Those were the guys I was used to going out with! Not that there's anything wrong with those guys, but that's who I'd ended up with before. Matt looked like a nice, normal guy. We started talking, and that was that.
Ddj: I'm so sorry about your fiancé losing his life on 9/11. What was the number one thing that worked as a salve in your grieving process?
RU: You can never get over something like that. It was such a horrific thing. Time definitely heals. Every year was a different level of healing. Ten years ago my healing was a lot different than two years ago. I thought that I was done and was over it and had closure many years ago, but I didn't. When I went on the show with Dr. Drew, he came to New York with me and we put a letter into the water and I did something physically to have closure. On our anniversary, I went to Ground Zero and said my goodbye and that was it for me. It was a culmination of many things over the years and learning from the experience and my behavior and the loss. I had to stop living in the what-if. May 4th would pass and I would say 'This is the date I was supposed to marry Andy.' I was missing out on my own present by not being in the moment. That was the biggest lesson that I learned over time. Bottom line is it's over — he's not coming back. I had to stop dwelling in the pain surrounding that and grow from it.
Ddj: You gave an interview to Page Six, where you said, "My mother was never around; I was raised by housekeepers. I've basically been alone my entire life. I was put in the right settings, but I never had someone teaching me." Do you feel like you've finally gained independence and wholeness as a woman?
RU: I've always been independent, I can say that. But I always felt alone. I can be in a room full of people and feel alone. It's something that I suffer from. Because I didn't grow up with a family. My whole goal in life was to have my own family, and now I have that. I have my own daughter, I have a husband. I do work on trying to remind myself that I can let people in.
Ddj: Do you stay in touch with Janice Dickinson, Leif Garrett or any of the other stars you were in rehab with?
RU: I was just in LA and Jeremy London and Leif came over. I don't talk to Eric Roberts that much, but I talk to his wife. His son, who he was reunited with on the show, I'm a big fan of his work. I go to Keaton's concerts a lot when Keaton comes to town. After I had my baby, I called Janice to let her know and to bury the hatchet because we had some problems on the show.
Ddj: You entered into Celebrity Rehab with an addiction to pharmaceuticals. Is that still something you struggle with?
RU: I was on anti-depressants then, and I was taking a lot of Ambien and Klonopin and Xanax and I haven't taken one pill since I left Celebrity Rehab.
***
Darrah is a freelance journalist and consultant, with a focus on sensuality, environmentalism, and fearless women in the media. She appears as a "Woman on the Street" on The Conversation with Amanda de Cadenet and has contributed to The Conversation website. Her lifestyle writing and celebrity interviews have appeared in Marie Claire, Esquire and W, among others. She contributes author and filmmaker interviews to The Rumpus, Hollywood Today. Her dating confessions have appeared in GirlieGirl Army and xoJane. Darrah's "Red, White and Femme" columns for SuicideGirls takes a fresh look at females in America – investigating issues like gender, bisexuality, sex work, motherhood and more. Darrah lives in LA with her doggie Oscar Wilde. Her passions include youth mentorship, horses, painting and singing. Subscribe to her blog at Darrahdejour.com/, and friend her on Facebook.