By Blogbot
This Wednesday, June 21 on SuicideGirls Radio, host Bradley Suicide will be joined by the vivacious VIZIN.
You can listen – and watch – SuicideGirls Radio live on Wednesday nights from 8 til 9 PM at our state-of-the-art, all digital home on zinna.tv.
**UPDATE**
ICYMI: Watch our show with VIZIN here or via the player below:
For updates on all things SG Radio-related, like us on Facebook and follow us on Twitter and Instagram.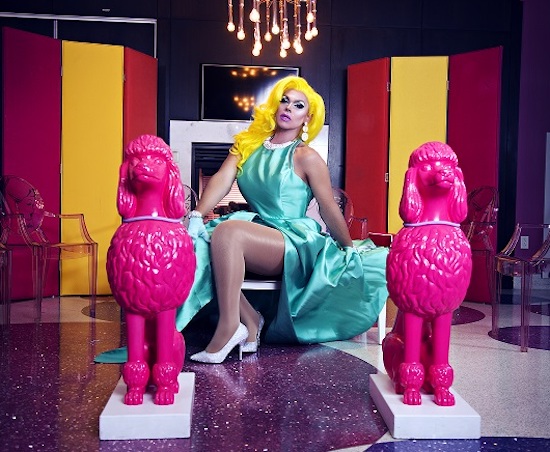 About VIZIN
Following her performance at the Long Beach Lesbian and Gay Pride Festival with Chaka Khan and Jodi Watley, pop recording artist VIZIN announces her coast-and-coast "I Was Born This Way" tour with dates in Los Angeles, New York City, San Francisco and Las Vegas.
"It's been an honor to share the festival stage with icons such as Chaka Khan and Jodi Watley and now an even greater honor to take the show on the road to share in a celebration of life, love, music and Pride," VIZIN says.
VIZIN's set will include her new single, "I Was Born This Way" from her forthcoming album. "I Was Born This Way" is a remake of the 1975 song originally written by Chris Spierer for Motown artists Valentino and Carl Bean.
"I Was Born This Way" is a joyful celebration with a love-yourself message and song-of-the-summer flavor. Chris Rosa (RuPaul) produced the single and world-renowned remixer Hector Fonseca, who has had over 20 number-one hits on the Billboard charts for artists including Lady Gaga, Beyoncé, Rihanna, Sia, and Katy Perry, remixed the single. An infectious ode to self-realization, DJs in seven countries have been playing the single.
"I Was Born This Way" Tour Dates:
May 20 & 21 — Long Beach Lesbian and Gay Pride
(With headliners Chaka Khan and Jodi Watley)
May 28 — Flair Nightclub, Las Vegas,
June 1 — Tigerheat, Los Angeles
June 9 & 10 — LA Pride
(With headliners including Erika Jayne)
June 23 & 24 — San Francisco Pride
(With headliners including Betty Who)
Fall, 2017 — Drag Con, NYC (Dates TBA)
For more on VIZIN visit:
instagram.com/vizinofficial/
facebook.com/vizinmusic/


The World's Leading BYOB Radio Show Is Sponsored By Mangria
"As a nightly consumer of red wine, I was shocked one evening to find I had just half a glass left in the bottle. So I did what any decent alcoholic, ex-con, American would do… I went to the fridge and the liquor cabinet, then poured, mixed and measured. Thus Mangria was born." — Adam Carolla
SuicideGirls Radio / Carolla Drinks Offer
You can purchase all three delicious flavors of SGR's fave luscious libation, Mangria — and the most excellent Endless Rant IPA — via CarollaDrinks.com. Fans of SG Radio can get $5 off any bottle of Mangria using this special discount coupon code: SG (unlimited use, code is good until December 31, 2017).
For more info visit Carolla Drink's website, Facebook, Twitter, and Instagram.