by Blogbot
This Thursday April 11th on SuicideGirls Radio hosts Nicole Powers and Moxi Suicide will be joined in studio by SG model Bradley Suicide, extreme piercer Chris Saint, and punk rock princess The Fabulous Miss Wendy. We'll be talking sex, piercing, and rock & roll – and may be doing two out of three LIVE on air!
You can listen – and watch – the world's leading naked radio show live on Thursday nights from 6 til 8 PM at our new state-of-the-art all digital home: TradioV.com/LA.
You'll also be able to listen to our podcasts via Stitcher – download the app now!
If you have questions for the SG Radio crew or our guests, you can call in during the live broadcast at: 1-855-TRV-inLA (1-855-878-4652)
For updates on all things SG Radio-related, like us on Facebook and follow us on Twitter.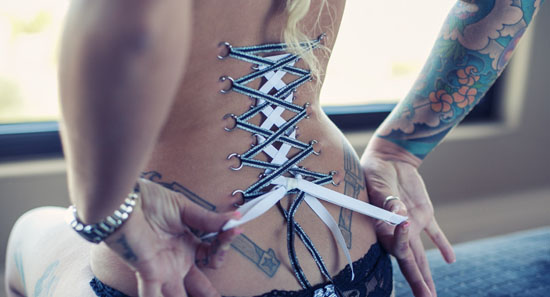 _About Bradley Suicide
Raised to be the epitome of a California Girl, Bradley Suicide has the blonde beach girl thing on lock. She grew up in the town of Sonoma in the heart of California wine country, but just wasn't cut out for small town life. She got the tattoo and party itch at a young age and hasn't looked back since.
Upon graduating from culinary school with a degree in Baking and Pastry Bradley moved to Huntington Beach and then, most recently to Las Vegas where she keeps the party going, double fisting drinks and sending ridiculous tweets – all while covered in glitter.
Highlights of Bradley's days, on the rare occasion that she is not working, include skateboarding, relaxing by the pool (drink in hand), and creeping on people's Twitter and Instagram accounts. She loves the beach, cheap wine, good beer, spicy food, boys with accents and tattoos, and baseball season.
Bradley has modeled for SuicideGirls.com since 2010, has been featured in Inked Magazine, appears in music videos, and is the writer of the Confessions of A Reluctant Dater column as featured on SuicideGirls.com.
For more info find Bradley on SuicideGirls and follow/friend her on Twitter and Facebook.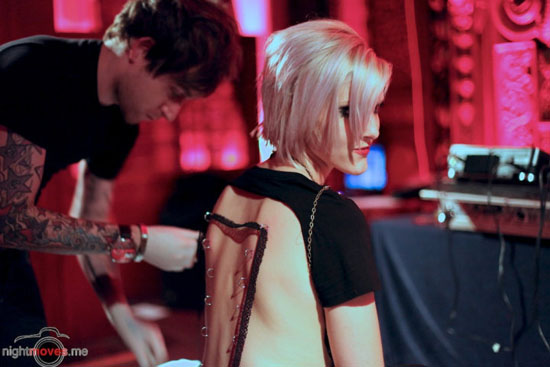 _About Chris Saint
English born and raised, Chris Saint restarted his piercing career by relocating to Los Angeles in 2007. Working in the heart of Hollywood, Chris focused himself on precision, creativity and presentation, and before long had succeeded in building a solid reputation within the piercing community.
To date Chris' work, including his surface anchor arrangements, can be seen in publications worldwide, on television networks including MTV, FUSE, OXYGEN, E!, and in music videos by artists such as From First Till Last, Angels & Airwaves & Marilyn Manson.
Chris has been a member of SuicideGirls since 2007, and is now an extremely proud member of the Club Tattoo, Las Vegas Team.
For more info visit Chris' Facebook, Twitter and Tumblr.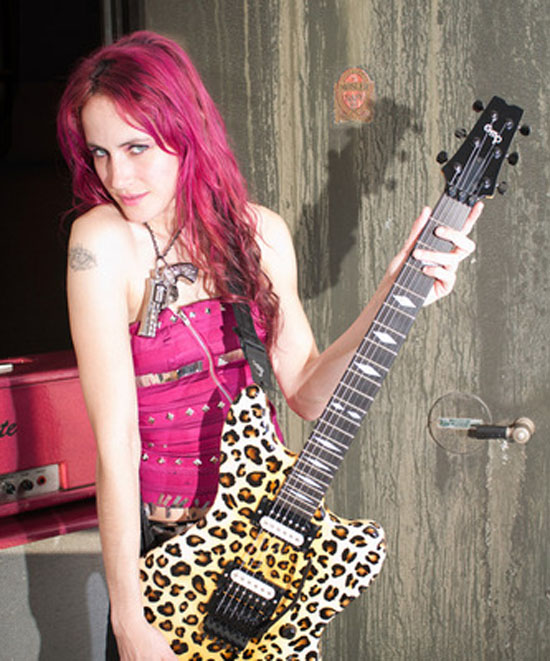 _About The Fabulous Miss Wendy
After touring with Slash, Hollywood's punk-inspired rock princess The Fabulous Miss Wendy is co-headlining the national Femme Fest 2013 tour with Hear Kitty Kitty and openers The Theodora Kelly Project and Mahi Gato. Wendy is taking to the highways in support of her new album No One Can Stop Me!" (Not Dead Yet Records), produced by the legendary Kim Fowley (The Runaways).
No One Can Stop Me! is a street-level battle cry that resonates from the underbelly of Hollywood. The opening title track of the album speaks to Wendy's unbeatable determination and passion while "Miami" is the true story of sultry adventures and steamy parties under the hot Florida sun. Her song "Silicon Assassin" is also the theme song for the new sci-fi web series by the same name and starring Richard Hatch (Battlestar Galactica).
In true DIY style, Wendy initially turned to Kickstarter to complete the funding for her album. She got it from 112 backers and then hit the studio with producer Kim Fowley who, among many other accomplishments, discovered The Runaways.
Wendy started her music career with only $20, but she was eventually nominated for LOGO's "Ultimate Sexiest Videos" weekly contest alongside videos by the likes of Lady Gaga. Wendy did two tours of duty to play for American troops in Iraq before going on to tour with Slash.
For more info visit Wendy's website, Facebook and Twitter.
**UPDATE**
ICYMI: The recorded of our April 11t show featuring SG model Bradley Suicide, extreme piercer Chris Saint, and punk rock princess The Fabulous Miss Wendy is now up on Ustream and can be viewed via the player below.