By Blogbot
This Wednesday, June 15th on SuicideGirls Radio, hosts Nicole Powers and Moxi and Bradley Suicide will be joined by Charming Liars, who'll be talking about their new album 12:31AM, which features the epic new single "Soul" (see player above).
You can listen – and watch – SuicideGirls Radio live on Wednesday nights from 8 til 9 PM at our state-of-the-art, all digital, 100% Hollywood home: ZHollywood.tv
If you have questions for the SG Radio crew or our guests, you can call in during the live broadcast at: 1-855-TRV-inLA (1-855-878-4652)
**UPDATE**
ICYMI: Last night's show with Charming Liars, in which we learn that Brazilian fart porn is a thing, and go on the discuss the etiquette of farting. Warning: Not for the squeamish (like Bradley!).
For updates on all things SG Radio-related, like us on Facebook and follow us on Twitter and Instagram.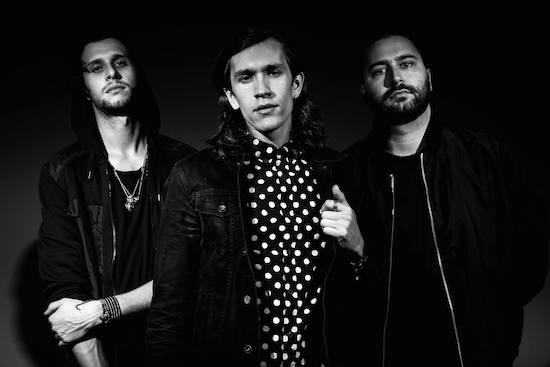 About Charming Liars
Los Angeles (by way of the UK) alt-rock darlings Charming Liars are getting ready to release a record that they hope will position them near the top of the rock world. 12:31AM is the band's fourth record and is a testament to their growth as artists. Since relocating from the UK to the sun and melody soaked streets of Los Angeles a few years ago, the band have been mainstays of the LA alt-rock circuit, with regular shows at venues like The Troubadour, Roxy, and the Satellite. Charming Liars have also seen success south of the border, with performances and radio play in Mexico and Brazil, where they have forged a devoted following. With the new record and an upcoming North American tour with Blaqk Audio and Night Riots, the band are hoping to bring some of that success back north of the border. Charming Liars are: Karnig Manoukian (guitar), Mike Kruger (bass), and Kiliyan Maguire (vocals).
For more info visit Charming Liars's website, Facebook, Twitter, and Instagram.

The World's Leading BYOB Radio Show Is Sponsored By Mangria
"As a nightly consumer of red wine, I was shocked one evening to find I had just half a glass left in the bottle. So I did what any decent alcoholic, ex-con, American would do… I went to the fridge and the liquor cabinet, then poured, mixed and measured. Thus Mangria was born." — Adam Carolla
For more info visit Carolla Drink's website, Facebook, Twitter, and Instagram.