By Blogbot
This Wednesday, June 7 on SuicideGirls Radio, hosts Nicole Powers and Bradley Suicide will be joined by Grabbitz, who blew us away with an invite-only preview of his live show!
**UPDATE**
ICYMI: Watch last night's show feat. Grabbitz here or via the player below.
You can listen – and watch – SuicideGirls Radio live on Wednesday nights from 8 til 9 PM at our state-of-the-art, all digital home on zinna.tv.
For updates on all things SG Radio-related, like us on Facebook and follow us on Twitter and Instagram.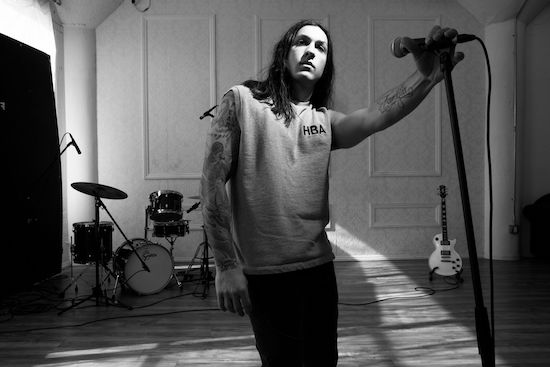 About Grabbitz
Grabbitz is a one-man production powerhouse and rock band with an electronic heartbeart, loyal to no genre and inspired by all. He's lived many lives in his 24 years on this planet and each Grabbitz song is a piece of his soul — his experiences and emotions wrung out like a wet rag. The result is stunningly authentic, the sort of music that brings universality to the individual's experience of love and loss while miraculously managing to have a sense of humor.
 
The debut Grabbitz album Things Change is an alchemic and visceral reaction to the loss of the most important person in his life, a trip into the belly of the beast on his personal hero's journey. He's the sort of artist who's creating all the time, so the temptation to stay in the woods of western New York and make music just for himself was great. Grabbitz made the choice to "Play This Game." You can hear his frustration in the grindy guitar riff and fat bassline that opens the track and his desperation to cling to love of any sort on the hybrid pulsating drumstep ballad "Don't Let Me Go." He finally loosens his grip on reality and surrenders to the certainty of a pop progression on "i think that i might be going crazy" – and those are just the first few songs of a twelve track album.
 
It's a good thing music is therapy for Grabbitz because he's responsible for every single aspect of his songs, from writing to production to performance. Hot off the release of his track with deadmau5 "Let Go," his live show debuted in his hometown Buffalo, NY with a guitarist (Sullivan King) and drummer (Morillo) in May. He's probably the only artist to ever be compared to both Trent Reznor and Eminem in the same breath (by Billboard) so the unleashing of his full live performance means the pressure is on.
For more on Grabbitz visit:
grabbitzmusic.com
facebook.com/grabbitzmusic/
twitter.com/grabbitz
soundcloud.com/grabbitz

The World's Leading BYOB Radio Show Is Sponsored By Mangria
"As a nightly consumer of red wine, I was shocked one evening to find I had just half a glass left in the bottle. So I did what any decent alcoholic, ex-con, American would do… I went to the fridge and the liquor cabinet, then poured, mixed and measured. Thus Mangria was born." — Adam Carolla
SuicideGirls Radio / Carolla Drinks Offer
You can purchase all three delicious flavors of SGR's fave luscious libation, Mangria — and the most excellent Endless Rant IPA — via CarollaDrinks.com. Fans of SG Radio can get $5 off any bottle of Mangria using this special discount coupon code: SG (unlimited use, code is good until December 31, 2017).
For more info visit Carolla Drink's website, Facebook, Twitter, and Instagram.